Category: Kerry Washington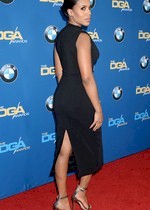 February 6th, 2017
Here's Kerry Washington looking real good in a tight dress on the red carpet for the 69th Annual Directors Guild of America Awards in Beverly Hills a few nights ago! Love that cleavage!
Famous booty exposed: Mr. Skin
July 3rd, 2012
Here's a nice round up of the sexiest celebs who went to the 2012 BET Awards this past weekend in LA! I think Kim Kardashian and Lola Monroe got the sexiest curves but all these ladies look fine!
The Best Celeb Sex Tapes: Vivid
November 9th, 2010
I never thought I'd be interested in a movie called Mother and Child but that was until I found out that Kerry Washington is showing tit in it!! Now I have to see this in high definition because I love Kerry Washington and her dick sucking lips.
Leaked photos and sex tapes: Real Celeb Scandals