Category: Selita Ebanks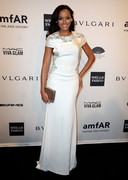 February 18th, 2014
Sexy pics of Selita Ebanks and her booty cheeks looking great in a white dress at the 2014 amfAR New York Gala!
Famous booty exposed: Mr. Skin
July 3rd, 2012
Here's a nice round up of the sexiest celebs who went to the 2012 BET Awards this past weekend in LA! I think Kim Kardashian and Lola Monroe got the sexiest curves but all these ladies look fine!
The Best Celeb Sex Tapes: Vivid
July 7th, 2011
Selita Ebanks showed off her long sexy legs at the premiere of Larry Crowne! I'm not really into her face and only Halle can pull off short hair ok but she got a dynamite body!
Leaked photos and sex tapes: Real Celeb Scandals
May 17th, 2010
Selia Ebanks recently did a shoot with Maxim magazine and she looks awesome! I love those tits and I might have to pick up the June issue even though that mag sucks.
April 12th, 2010
Damn.. see through or not? Selita Ebanks be playing with our minds with this sexy dress!! I mean, its basically two layers and the bottom layer definitely got some see through going on because you can see her bellybutton and a bit of nipple but the outer layer fucks it up so you don't know what you're actually looking at.
Its sexy though and thats all that matters..
Nude celebs archive: Banned Celebs
March 11th, 2010
Wow, Selita Ebanks sure picked an outfit to compliment her body while leaving the CW Studios in New York the other day. She gives you a real treat with that juicy cleavage but then she turns around to sign an autograph and thats when she shows us how fine her ass looks in that form fitting dress! Fucken nice!
Nude celebs archive: Banned Celebs
November 23rd, 2009
The Victoria's Secret big fashion show took place recently and I don't care about all those skinny models except one; Selita Ebanks. She is skinny, but just like Thandie Newton she gets away with it. Here are some pics from the after party and video from the fitting room at the show.
Nude celebs archive: Banned Celebs
April 17th, 2009
Ye Ye, another skinny celeb but I think Selita Ebanks is hot and when she is putting her titties out like these I cant resist posting it.
Celebs depicted as the whores they are: GoGo Celeb

November 25th, 2008
Since Tyra Banks stopped modeling Ive had like no interest in the Victoria Secret lingerie show. All they got is bony girls on there. Selita Ebanks isnt exactly thick but at least she brought some curve to the show..
Nude celebs archive: Banned Celebs

May 21st, 2008
Selita Banks is mostly famous for being a Victoria Secrets model and generally being fine as hell. Here she is at a Kanye West party.. again.. looking fine as hell.
Nude celebs at: Mr. Skin